Halloween If you're looking forward to that spooky autumn night we all love so much, would you like to decorate your home with some original ideas? You might feel tempted to skip the decoration with the usual pumpkins and cauldrons, but getting your ghost doesn't have to cost a ton or require a lot of effort.
Here are some ideas to inspire you or to use them to decorate your home on this date.
Pumpkin Topiary
For a wickedly good welcome, or just a spectacular outdoor/indoor decoration, you can make a pumpkin topiary with painted plastic pumpkins, a barrel-inspired planter, lights and hay.

Cauldron with Eyes
Use a small black bowl to pose as a mini cauldron and fill it with edible "eyeballs", also known as foil-wrapped chocolates with painted eyeballs.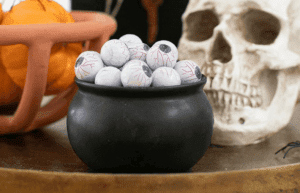 Melted Candles
All you have to do for this one is light some candles, let them work their magic and then place them around the house. Bonus points if you display them in spooky black-painted wine bottles for great night-time thrills.