Add a homemade touch to your tree this year with one or more of these DIY Christmas ornaments. From classic to modern, there's no shortage of ideas in this round-up of decorations you can make. Unleash your creativity and give your tree an original touch.
Here are some ideas to inspire you or to add these decorations to your Christmas tree.
Coffee Mug
Make this coffee cup ornament for the coffee lovers in your home. It is very simple to make and can add a nice red and original touch to your Christmas tree.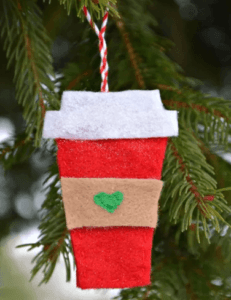 Forest Animals
Give your Christmas tree a woodland animal theme by making these wonderful animal ornaments. You can use a variety of materials to make them, even wood if you have a DIY expert around the house.
Hanging macarons
If you love French macarons, why not add a handmade macaron ornament to your tree to make you smile? It will add a lot of colour to your tree and a nice touch to your tree.