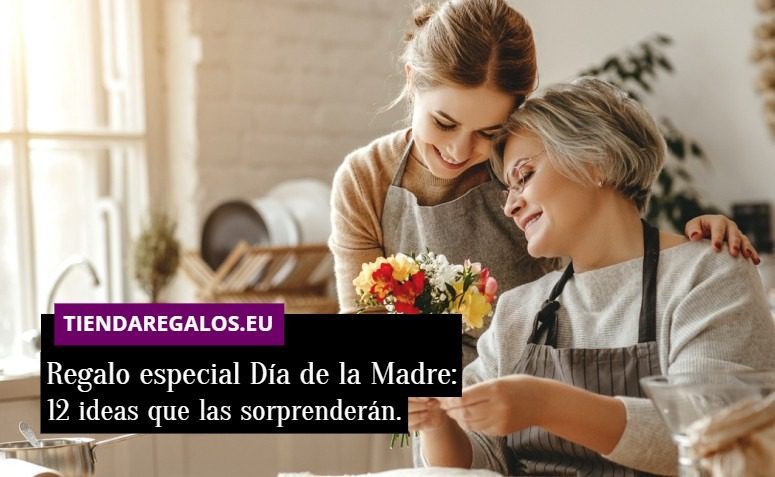 A special gift for Mother's Day is one in which you give all your love and gratitude to a person who is so dear to you. However, it is not always easy to give a gift to someone for whom we feel so much affection. That's why we've put together some ideas to help you in this mission, take a look at the following article!
12 ideas for a special Mother's Day gift:
1. Special love letter or card
Do you like writing letters, poems or drawing? Then make your skills a special gift for your mother. She will be delighted to see that her daughter has prepared a personalised letter or card with a lot of love and effort. And if you prefer to send ready-made but profound texts, check out our tips for phrases o messages for Mother's Day.
2. Massage performed by you.
There's nothing better than giving your mother a treat and making her feel more relaxed, is there? You won't spend a penny and you'll still bring a smile to her face! Check out an article on relaxing massages and understand the benefits they bring to the body.
3. Playlist made especially for her
Receiving a personalised gift like this is as good as any other item you buy. That's because it will make your mother realise how much you care about her musical tastes and how much you enjoy seeing her happy. Suggest songs that she likes and that, when she hears them, remind her of the energy and affection of the person she loves so much. It's the perfect gift for the mum who already has everything!
It's been a while since you've spoken to your mother and she lives far away, so how about a phone call and a few hours of catching up? Tell her all the details of what's been going on in your life and comfort her over the phone. Sometimes all they want is a little more attention!
5. Home-cooked dinner or lunch
If you live with your mother, how about surprising her with a different meal prepared by you? As well as being a gesture of affection, it's a cheap gift that will leave her in awe. See ideas from recipes! Oh, and don't forget to do the dishes, ok?
Another option is to prepare a tasty and easy dessert to sweeten the life of your mother and the rest of the family. You can use her favourite ingredients or even decorate it with special elements just for her!Here you have some great recipes for this time!
Chocolates are also a delicious idea, aren't they? And you can do it in a different way: you can order the box of chocolates Mother's Day home delivery and talk to the shop about putting a special message on the gift.
You know those delicate kitchen items, such as heart-shaped ice cube trays, teddy bear shapes, an accessory that cuts fruit directly into pieces or decorative plates? In Daiso shops, for example, you can find a wide variety of such things.
If your mother does not yet have an electric fryer, you can be sure that she would love to get one! As well as making food healthier, as there is no oil in it, preparing recipes is much more practical. Here you can see suggestions of dishes prepared in the air fryer.
Did you know that wine has several health benefits, if drunk in moderation? As well as being a sophisticated gift, your mother will love to have a few glasses and talk to you!
Does your mother spend a lot of time in contact with cold water or cleaning products? Or is she older and likes to take care of her skin? Give her some cream to moisturise and repair damage in this area. Opt for products with mild or neutral scents to avoid allergies.
An invigorating bath brings a sense of well-being and is sometimes all your mother needs during the day. Make this time more enjoyable by giving her bath salts to cleanse, moisturise and relax her skin - she'll love them!